Business Coaching in Wakefield, West Yorkshire – ActionCOACH Wakefield
Beat the impacts of Covid-19 on YOUR business
& plan for business growth, bigger profits and more income!
Business Growth Events
Upcoming Events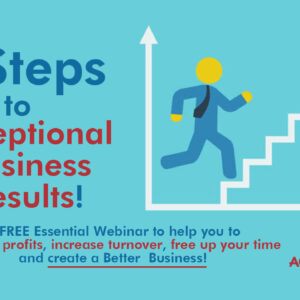 6 Steps To Exceptional Business Results – FREE Online Event
Learn how to increase your profits by 61% and make your Business Work So You Don't Have To…! Have the impacts of Covid-19 left your business on its knees? Or has it led to an increase in demand so quickly that you have grown too fast and can't keep up? Does it just feel like job…
Business Growth
Business Planning
View the full business events calendar
Here's what our clients have to say…

Thank you, you are an angel. For the first time in two years I feel like I have the support and I'm back on track. It's like a new start.

Caroline, Gallery Owner

Supportive, encouraging and challenging....
Jenni took a structured, logical approach to my coaching which really suits my preferred style of working and learning. I would certainly recommend working with Jenni as she is a great mix of supportive, encouraging and challenging all in the right measures to help you get the best from yourself and your business.

Kat Derbyshire, BlackKat HR

Structured, interactive and friendly
Myself and my husband attended a 6 Steps to Business Success workshop/networking event run by Jenni. It was structured really well, gave a great insight into business yet felt very interactive and friendly. I'd highly recommend to others.

Rebecca Moore, FLP

A Clear Action Strategy.....
I can't wait to start putting the key areas into a clear action strategy with the support of an individual that both understands the challenges of being a business owner with an expansive knowledge of driving a business forward and supporting individuals to do to this.
I would not hesitate in recommending Jenni to any other business owner looking to take stock and grow their business.

Pamela Hopkinson, Social Media Solutions

I have recently begun working with Jenni who is proving to be a Force for good in my business! Her good sense and patience are obvious even at this early stage in our business relationship and I have total confidence that with her guidance my business will go from strength to strength.
I would thoroughly recommend Jenni and ActionCoach.

Barbie Devall, Oakwood Dental Practice
Helping us build a more stable foundation.....
Jenni has the ability to filter through what you tell her about your company and offer advice, information and help to guide you through the process. Helping us to build a more stable foundation for our business through identifying areas you don't need to spend a lot of time on to areas you need to prioritise.

Tina Buck, CBS Ltd
Get In Touch
How Can We Help You?
Send a message
Contact info
ActionCOACH Wakefield Premier House,
High Street,
Crigglestone
WF4 3EB
Wakefield